It was in 1975.
I had just arrived to Helsinki and was waiting for a boat to Stockholm. As usual when I am travelling, I went to a local bookshop to look for new art books. I saw one book.
I don't remember the title or how it looked like, but inside the book there were, among others, some pencil drawings and watercolours showing dry landscapes, pine trees, cones, and a German steel helmet. The book was too expensive for me.
Years passed and I could not forget the small drawings and watercolours. Perhaps, because they expressed so much of my own feelings and early experience of nature. They were so strange and right.
Not till the 1990s did I realize that it was paintings by Andrew Wyeth I had seen back in 1975. This was the start of my attraction, studies and fascination of Andrew Wyeth's art.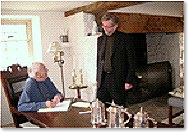 Andrew Wyeth & Peter V. Nielsen


home